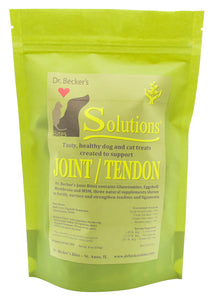 Dr. Becker's Bites Joint/Tendon treat containing Glucosamine Sulfate, Eggshell Membrane and MSM (Methylsulfonylmethane), was created to support tendons and ligaments for active, working and growing dogs and cats with joint issues or for proactive joint care. These dog and cat treats and the ingredients in them may help to fortify, nourish, and strengthen the tendons and ligaments in dogs and cats, and slow the progression of joint deterioration. For dog and cat treats that support joint health, check out these Joint Support Solutions Bites.
Features
Designed for proactive joint care
All organic ingredients 
Handmade for 100% nutrition retention
These dog and cat treats may strengthen the joint health of your furry friend. Whether you are looking to encourage strong joint development or preserve your old boy's joints for a great life in their old age, check out these incredible dog and cat treats today! Curious to find out more? Reach out to us today! Click on the active ingredient below to learn more about its benefits.
*Eggshell Membrane 65mg/treat(max)
*Glucosamine Sulfate 45mg/treat(max)
*MSM 45mg/treat(max)
Specs
Ingredients: Beef Liver, Eggshell Membrane, MSM, and Glucosamine Sulfate
Guaranteed Analysis:

Crude Protein (min.) 60%
Crude Fat (min.) 5.5%
Crude Fiber (max.) 1%
Moisture (max.) 11%

Net Weight: 4oz (113g)
Suggested Serving Size (Dogs):

1-10 lb | 1-3 treats/day
11-25 lb | 4-6 treats/day
25+ lb | 8 treats per day (max)

Cats: 1-2 treats/day